Welcome to Gear Box Pro Ltd.

Cable Management Systems for Professional Audio and Power Distribution.
Gear Box Pro Ltd. designs, manufactures, and sells cable management systems for the entertainment industry. Gear Box Pro Ltd specializes in cable management and distribution systems for audio speaker, audio signal, and A/C power.
Gear Box Pro was birthed out of a vision of offering an alternative to Labour intensive, home grown interconnect solutions . Through the use of proprietary technology, Gear Box Pro offers cable management system components that are smaller, more reliable, flexible, and providing a cost effective solution to distribute cabling than traditionally utilized by the audio industry. Our power products are electrically approved by appropriate safety standards and associations.
Check out our newest products


'Power Cube®' the NEW member of the Cable Cube® Family provides a rugged 'Tour Grade' power quad box solution for stage and truss power distribution. Used with Powered Loudspeakers and modern Lighting fixtures using power-Con power connectors. For more information
Click Here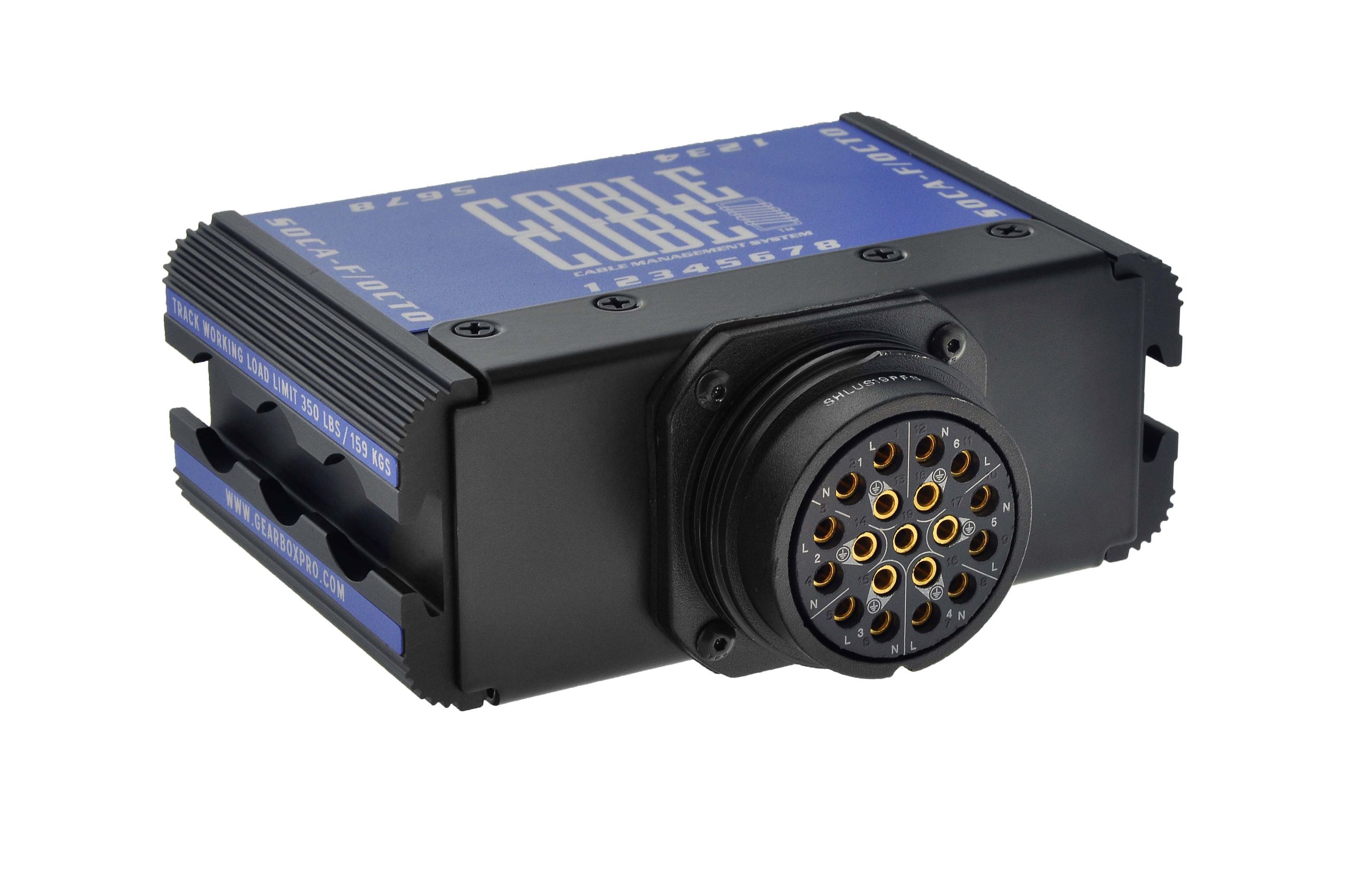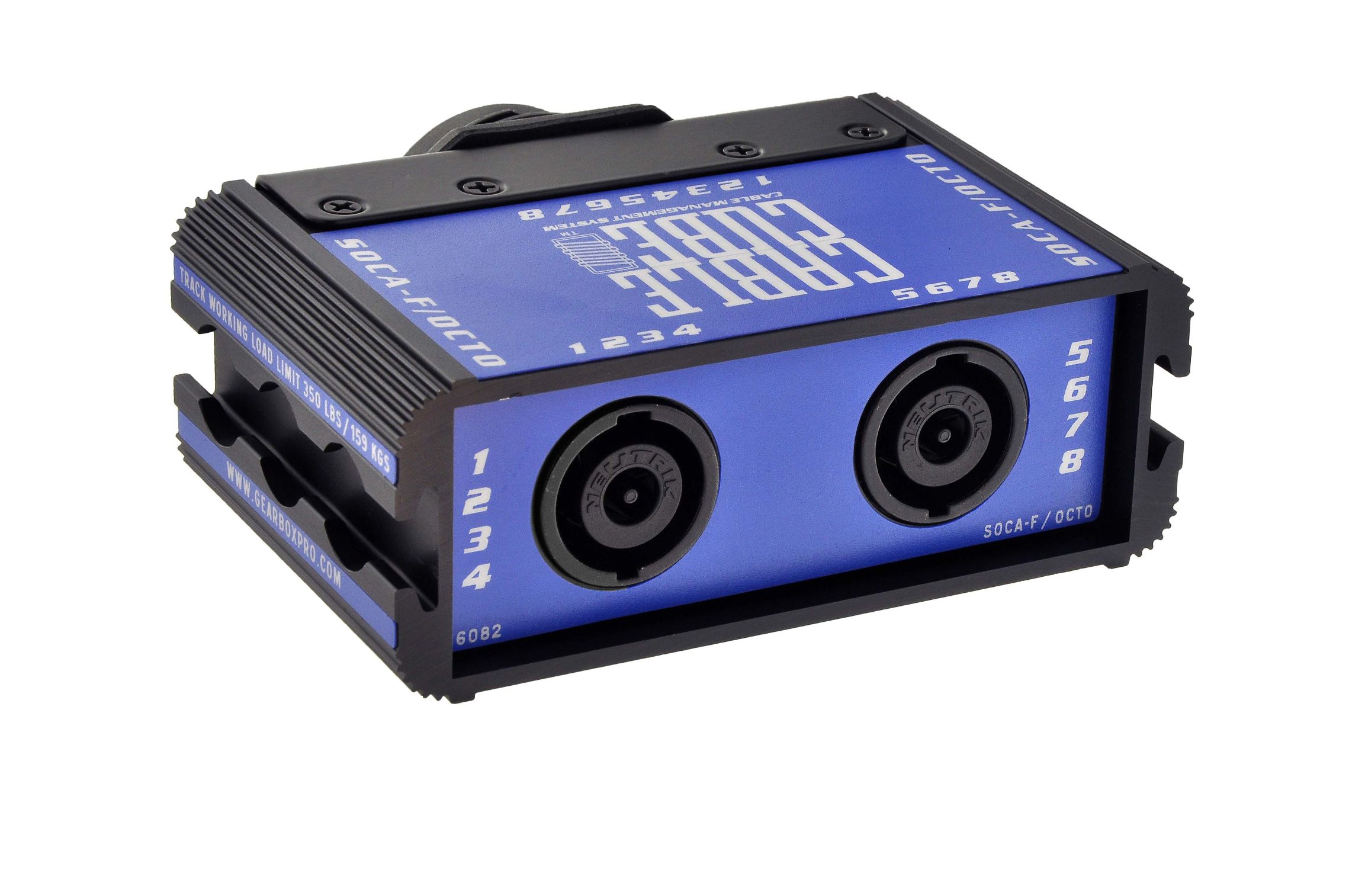 The SOCA / OCTO is a speaker cable splitter that uses a SOCA style connector (Male or Female) and breaks out to a pair of Neutrik NL8 connectors. One NL8 connector wired to the first 8 pins of the SOCA and the second NL8 connector wired to pin 9 through 18 of the SOCA. Click here for more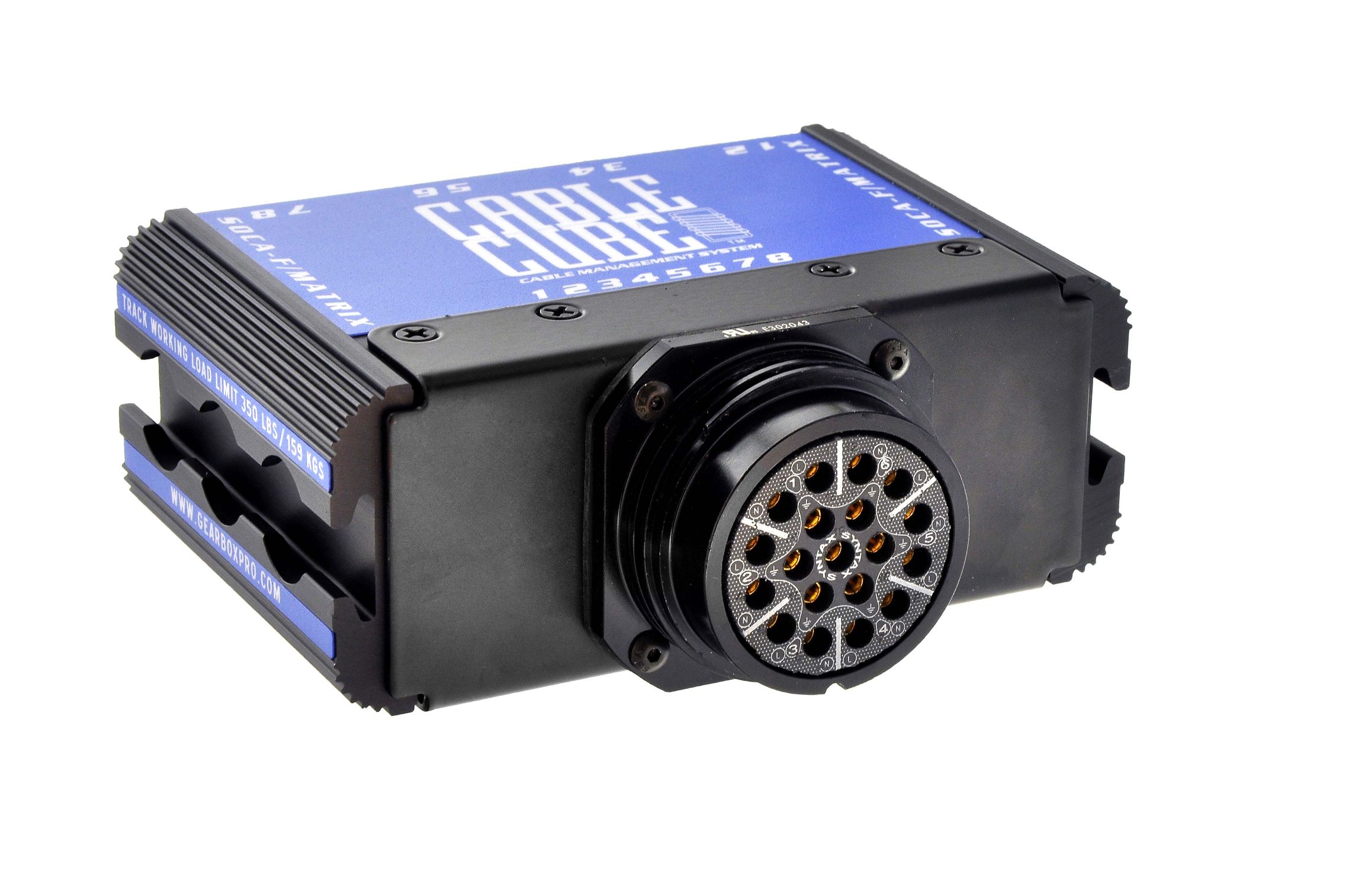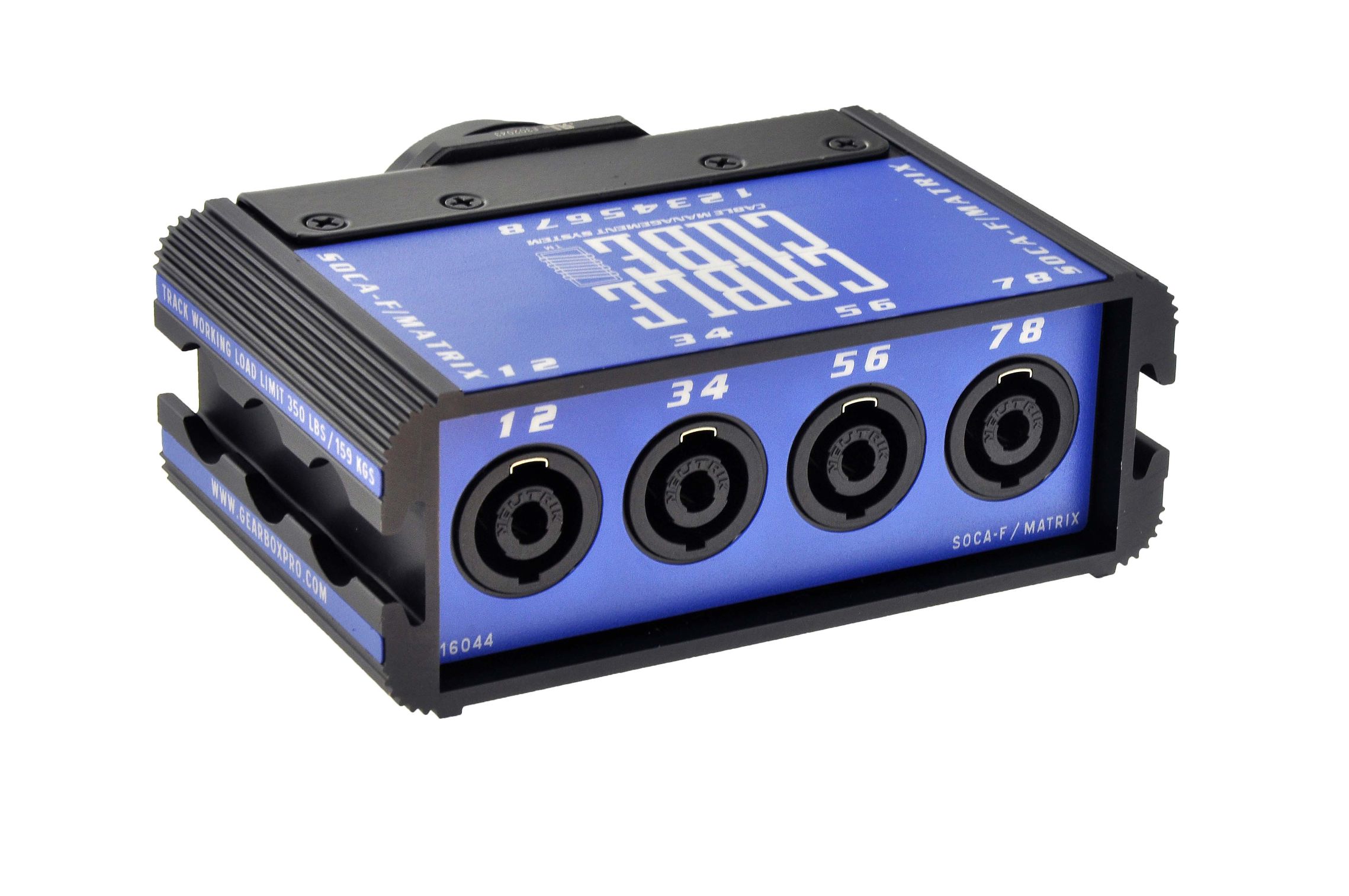 The SOCA / MATRIX is a SOCA style connector that breaks out to four Neutrik NL4 connectors. Both new SOCA Cable Cube® Products are surrounded by a heavy duty, rugged aluminum extruded box with a convenient integrated fly-track to secure them to truss or speaker bumpers. Click here for more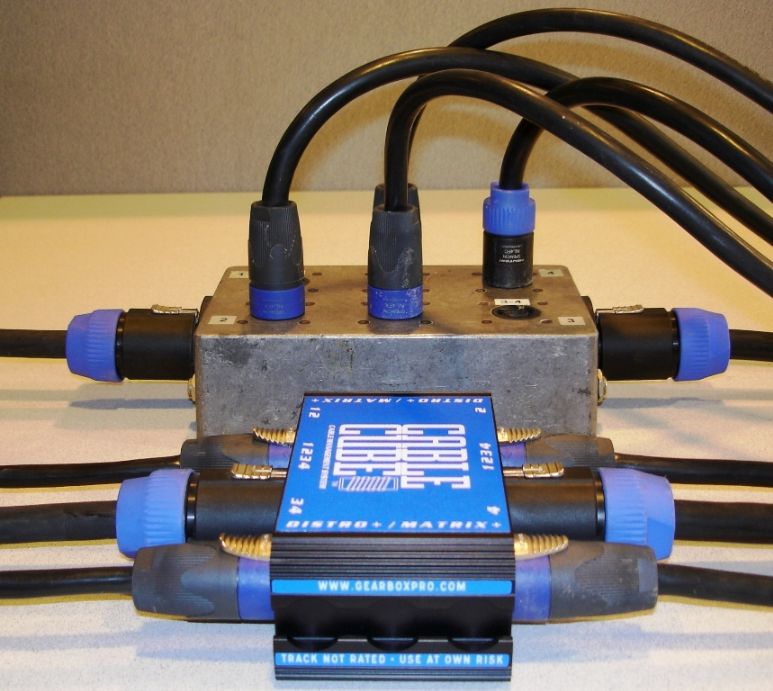 The previous alternative was hand made devices, poorly labelled, time consuming and expensive to build, prone to errors (e.g. polarity), considerably larger with a less than professional presentation.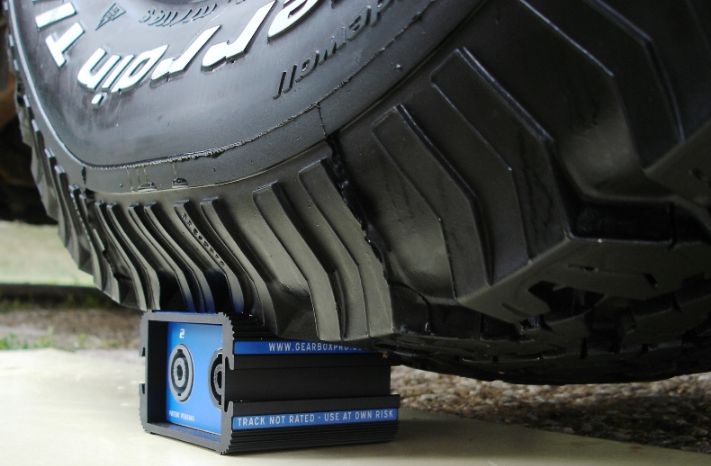 The All Terrain Solution
Reduce trip hazards with Cable Cube
®
Our cable management system components build confidence in your customer providing a rugged professional image with great versatility and value. Cable Cube® products are made from aluminum, stainless steel and genuine Neutrik® components. They are built to withstand the typical abuse of the entertainment industry. Don't pack a show without them.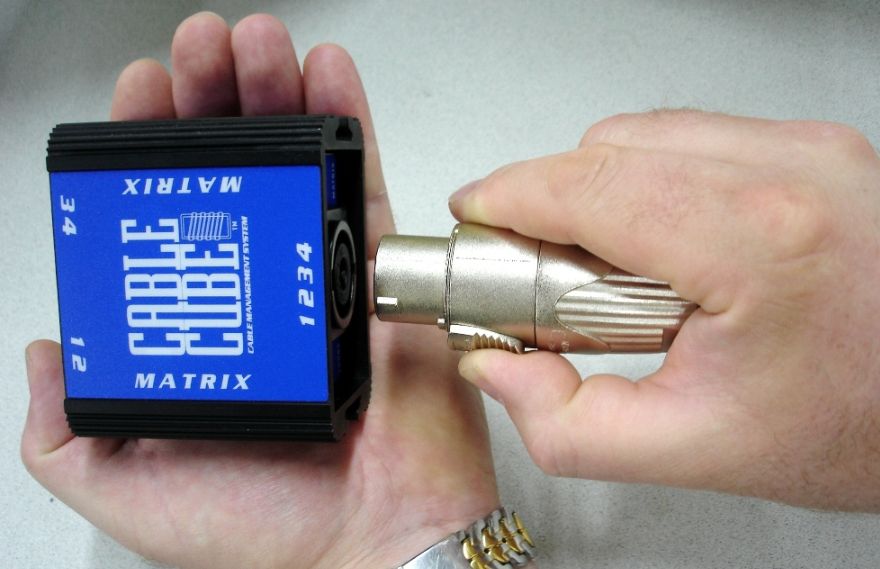 Our products are also very compact and light.
Cable solutions that will fit in the palm of your hand.
Visually discrete look on stage or in truss — size of a DI Box.
Integrated Track fits standard Fly-clips for rigging.

Bi-directionally functions as both cable splitters & combiners.

Quick multi-channel output connection for Amp racks.

Line Array speaker cable distribution — better than a splay.

Generates new and innovative cable routing solutions.

Optional RMK Rack Mount for increased versatility.

20 different models to choose from!

Nearly impossible to break, virtually indestructible!

Cable management systems for your amplifier distribution needs

Cable management systems for stage monitor speaker cables

Cable management systems for touring rigs to keep speaker cables and audio cables organized

Cable management systems for power distribution

Custom cables and speaker cable splitter

solutions

W

e use Neutrik connectors to build small, rugged speaker cable splitters and break out boxes

We use SOCA

1

connectors combined with Neutrik connectors to build larger, rugged speaker cable splitters and break out boxes
Cable Cube® is the first of many pro audio product lines Gear Box Pro is introducing. Cable management is a huge task when using amplifier distribution and multiple speakers in large setups such as touring rigs. Some speaker manufacturers are currently only providing one connector to daisy chain two speakers together, necessitating the design of our Cable Cube® cable splitter solutions.
To illustrate the utility of our products, think of a home stereo system and all the components that require a power bar to plug into. Complex home systems and pro audio systems have increased needs for audio cabling from one device to another. Gear Box products manage audio cables much like a power bar manages the home stereo equipment power plugs. Cable Cube® is in effect a cable splitter that allows you to hook up one speaker cable to more than one speaker.
Cable Cube

® will help you distribute bi-amp stage monitor more effectively

Cable Cube

® will let you run one large cable to a break out box to power cluster arrays or distributed speaker array

Cable Cube

® will reduce the number of cables required to connect up your audio rig
SOCA connectors were originally developed by Socapex. While the original name is Socapex, the industry standard is now called SOCA because there are other manufacturers who create "Socapex" adaptors that mate to the original 19, 7 and 37 pin Socapex. So when we say SOCA, we are referring connectors that will mate to the standard created by Socapex and not just the brand Socapex. Our current brand of SOCA connectors is not Socapex.